Trimmers & Brushcutters
HUSQVARNA 543RS 40cc

Powerful, versatile machine for frequent trimming of thick grass and weed. 543RS is a bargain for landowners who want a robust, reliable and easy to use brushcutter. Equipped with a strong, fuel-efficient X-Torq engine and an efficient air filter that provides less engine wear and service. Trimmer head, grass blade and combi-guard are included.
HUSQVARNA 525RJX PROFESSIONAL

Efficient and easy to use brushcutter with J handle that allows you to use both trimmer line and grass blade. Has the lowest vibration rates in its class.
HUSQVARNA 129RJ 27cc

Professionals turn to Husqvarna for powerful engines that make tough jobs easy. With Husqvarna Brushcutter 129RJ, that power is available to consumers as well. Brushcutter 129RJ features a powerful 27cc engine and professional quality – combined with a focus on ease of use. It is easy to start thanks to Smart Start®, intuitive controls and the automatic stop return switch – a feature that automatically resets to the ON position for trouble-free starting. 129RJ comes with trimmer head and grass blade plus a combination guard so you don't have to switch guard.
HUSQVARNA 115iL BATTERY STRIMMER

Lightweight, comfortable and easy to use battery trimmer for trimming lawn edges or small areas of higher grass. Its powerful, low-vibration brushless motor, with no direct emissions, is quiet enough for use in residential areas without disturbing your own family or neighbours. Intuitive keypad for safe, convenient starting and stopping, telescopic shaft for personal fit and comfortable adjustable handle ensure it is efficient, effective and easy to store, transport and use.
ALL EGO PRODUCTS COME WITH A
MONEY BACK GUARANTEE
IF YOU ARE NOT SATISFIED WITH ANY EGO PRODUCT YOU CAN RETURN FOR A FULL REFUND.
(TERMS AND CONDITIONS APPLY)
EGO ST1211E 30CM LINE TRIMMER
The EGO POWER+ String Trimmer sets a new standard for string trimmers, performing as well as or better than premium petrol-powered models. It runs on the industry's first-ever 56-volt Lithium-Ion battery, with 40% more power than the leading 40-volt battery. The EGO POWER+ String Trimmer delivers the performance of petrol without the noise, fuss and fumes. The features of the EGO POWER+ String Trimmer include: 30cm cutting swath for efficient trimming around your garden; dual-feed, spiral twist, 2mm diameter line for professional cutting power; and a bump-head trimming system with easy string replacement—just hook, wrap and go!
EGO MST1500E-B 38CM LINE TRIMMER
**New for 2018** The MST1500E-B line trimmer and brush cutter with variable speed, 38cm cutting swathe, bump head line feed and rapid reload head. Featuring anti-clockwise rotating direction and a brushless motor for maximum efficiency. Also supplied is a reversible three-sided metal blade, which makes short work of any overgrown area.



EGO ST1300E 33CM LINE TRIMMER
With a cutting swath of 33cm the ST1300E cuts any task down to size. It features a powerful brushless motor providing better efficiency and runtime and for optimum comfort, control and practicality it has a quick adjust handle. The soft-start function and constant-speed control ensure consistent trimming and on a single charge, the Arc Lithium battery gives you all the power you need to tackle the toughest conditions. Other features include dual cutting speed selection, easy line replacement and twin line trimming for faster cutting and lower vibration, while the free-rotating bump cap lets you rest the cutting head on the ground without being worn away!


EGO ST1500E-F 38CM LOOP HANDLED LINE TRIMMER
Loop handled line trimmer with Rapid Reload head for quick and easy line loading. Powerful performance for tackling trimming jobs around the garden.
EGO BC1500E-F 38CM BIKE HANDLE LINE TRIMMER
Bike handled line trimmer with Rapid Reload head for comfortable use and easy line loading. The machine also has a brushless motor that increases power and efficiency. The variable speed trigger allows for more precise working.
EGO BC3800E 38CM BRUSH CUTTER
Rear motor brush cutter that comes with both a line trimmer head and a three-sided metal blade for tough weeds. A single-shoulder harness (AP1500) is included for added comfort and longer usage period.


TANAKA TBC230S
A delight to work with, the Tanaka TBC-230S Line Trimmer is ultra-lightweight (4.4kg) and is supplied with a comfort-enhancing single-strap shoulder-harness. The provision of a compact 'loop'-handle means you'll have no trouble operating in tight spaces.
TANAKA TBC270S
The Tanaka TBC 270S Bush Cutter is designed to extend the range of applications available from a grass trimmer, for multi-purpose use, with additional attachments for garden use. The TBC 270S features S-start for easier starting and a commercial grade 27cc, 1.2 h.p. Tanaka two-stroke engine. (S-start enables the machine to be started with your finger and thumb first time, every time).
TANAKA TBC340D
Professional landscapers seeking a lightweight yet powerful brush cutter for more challenging jobs need look no further than this fantastically well equipped brush cutter from Tanaka. Power for the cutter head is supplied by a very high performance 33cc Tanaka two-stroke engine, which boasts a chrome plated cylinder and a two ring piston for impressive durability in the face of frequent heavy duty use. Tanaka's S-start technology allows for smooth, jerk-free pull starts. The drive shaft on the Tanaka TBC 340D Brush Cutter is bearing mounted and made from solid steel, so you can be sure the maximum of torque is delivered to the cutter head, which in turn will allow you to meet the toughest challenges head on. A rubber mount between the shaft and the engine combines with a padded handlebar so as to minimise vibration transfer; while Tanaka's provision of a double handlebar, ensures you'll find it easy to guide the cutter-head safely and accurately across the ground. Despite its high powered engine and rugged construction quality, this model weighs in at just 5.3kg. A metal brush cutting blade and a nylon-line strimmer head are both supplied as standard.
TANAKA TBC4200DX
Designed to achieve a balance between cost and performance and built for hard work. Adjustable handle - that allows easy transportation and storage, as well as setting comfortable handle angle for different users.
TANAKA TBC550DX
Designed to achieve a balance between cost and performance and built for hard work. Adjustable handle - that allows easy transportation and storage, as well as setting comfortable handle angle for different users.
KAAZ VS256(S)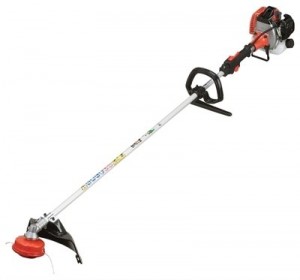 Straight shaft loop handle strimmer with a 26cc Mitsubishi engine. Comes with a single harness, goggles and auto feed nylon cutting head.
KAAZ VS400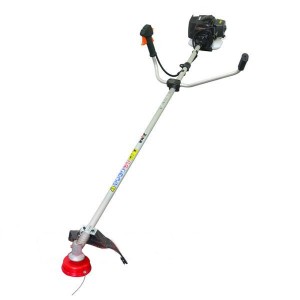 Fitted with a powerful 43cc Mitsubishi engine, this model is suitable for use on thich vegetation and for large areas. The ergonomic handlebars and full padded harness with hip pad make it a comfortable machine to use. It is supplied with a tap & go head and 3-tooth blade.