Mitox Chainsaws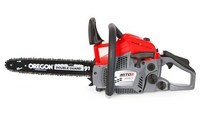 Mitox Chainsaws are becoming an ever more popular choice for our customers, with excellent quality build and great reliability. This is a serious competitor for the top brand companies that dominated the chainsaw market for so long.

CS380X
The CS380X adds a new dimension of quality to our most compact size of chainsaw. With plenty of power from the 37.2 cm3 engine, the CS380X is effortless in operation thanks to the vibration-limiting and comfortable aluminium front and soft-grip rear handles, making it a joy to use. Starting is also aided by the SmartPull recoil assist, which reduces resistance in the starter cord, firing the engine into life with just a gentle pull.

CS500X
Sharing the same magnesium alloy crankcase and packed into the same compact frame as the CS450X, the CS500X offers a longer 18" Oregon guide bar and even more powerful 50.1 cm3 engine. Despite its power the CS500X is surprisingly easy to handle thanks to its optimised balance, weight saving features and ergonomic soft-grip handles.