Tanaka Chainsaws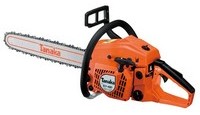 Tanaka have been a proud name in our shop for a number of years now and we can highly recommend the full range we stock. They have proved to be of excellent build quality and a reliable product giving long term service to their owners.
TCS 330IS 14" TOP HANDLE CHAINSAW
Our price - £280.00

The top-handled Tanaka TCS 3301S Petrol Chain saw is characterised by its lightweight handling; high-torque performance; and effortless manoeuvrability, and as such will more than meet the needs of the professional arborist. Driving it is a high-powered 33cc two-stroke engine which employs a chrome-plated, stress relieved cylinder and a forged-steel connector rod for unfailing operation in the face of heavy-duty use. Tanaka's Dust Rejection Air-Filtration System works to prolong engine life and reduces maintenance requirements; while their S-start system reduces starter rope resistance by between 30 and 50 percent for almost effort-free recoil starts.
ECS 335I 14" CHAINSAW
Our price - £250.00
Simple to use, easy to manage and developing more power from its 33cc engine than many larger displacement saws, the Tanaka ECS 3351 is the perfect tool for general purpose homeowner use. The Tanaka ECS 3351 Petrol Chain saw features a crankshaft driven chain oiler, which keeps the cutting gear constantly lubricated so as to extend it useful life. You can select a flow rate that's most appropriate for the length of guide bar you're using and the type of wood you're dealing with. The bar and chain are made by the world's leading chainsaw cutting gear manufacturer, Oregon. The high performance two stroke engine on the Tanaka ECS 3351 incorporate a forged steel connector rod and a chrome plated stress relieved cylinder, so long term reliability is assured.

ECV 4501
Our price - £370.00
Tanaka chain saws are designed and built to unfailingly exacting standards, and as such are a great choice for landscape contractors and forestry professionals. This model is characterised by its high powered 43cc engine and expansive 18" Oregon® guide bar; a combination that means larger trees, timbers and logs can be efficiently dealt with. The engine itself is a two-stroke unit which boasts a vertical type cylinder positioning that works to reduce noise, vibration, exhaust emissions and fuel consumption. Turbo Force air pre-cleaning serves to remove the majority of dirt and dust from the air prior to it reaching the filter for less cleaning and optimum protection of key components; while a decompression valve means the effort required to pull the starter cord is lessened by a massive 70-percent.